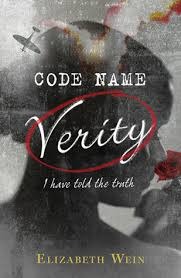 Given that Elizabeth Wein just released the third novel in this series (a prequel to VERITY and ROSE UNDER FIRE) I thought I'd plug this book for y'all.
It's written in a journal format, containing entries from two women at separate times, one of whom was a POW, and the other was a pilot. It's a book that hinges on twists, reveals, and deception, so I don't want to give away too much more than that.
What I loved about it was the richness of the two main characters, Verity and Maddie, who find a profound friendship as they serve behind the scenes in World War 2. I say "behind the scenes" because WW2 often conjures up images of island-hopping or D-Day, but even for the women in the war who were kept out of combat, peril abounded, and this book shows just how hard and fast it found these two.
It's aided by Wein's own chops as an airplane pilot, so those details give it weight without feeling forced. Ultimately it's a tale of friendship and loyalty, and what shape those things take in wartime.
So far as I recall there was one F-bomb and a few sensual references, but nothing overt beyond that. Great book overall, and its sequel as well (though I confess I didn't find as much optimism out of it as I did with the first one.)