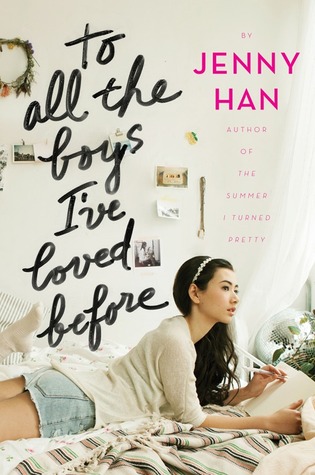 TMRGB is a series of posts wherein I, a bearded truck driver in the mining industry, recommend effeminate fiction to the masses. 
Today I posted one of my worst drive times ever between Clark County, Nevada and Salt Lake County, Utah. Partly this was due to me being in a convoy including another truck and two cars, and partly this was because our trucks were governed, heavy, and somewhat underpowered.
We moved my Mom up to Utah with us (oh yeah, by the way, I moved to Utah, hence the lack of posting…been busy) so today's Girly Book was literally read/listened to whilst driving a truck. Even with the long drive time, I had to amp up the playback speed so I could finish it as we rolled into my neighborhood.
This book has come across my radar a handful of times, given its NYT bestseller status. One of Han's other audiobooks is in my TBR pile but I grabbed this one after hearing the recent announcement of a movie adaptation. It's about Lara Jean, a high school junior, who has had crushes on five different boys in the past, and overcame her crushes by writing letters to them and then hiding them in her room.
Then one fateful day, all of the letters somehow get…delivered.
This obviously sets off a chain reaction of events that throw Lara Jean's life into a state of emotional chaos. One of these boys is the School Hottie! Another one is her Sister's Ex-Boyfriend! The rest are…
…well admittedly the rest are pretty inconsequential, at least at first. There are two other books in the series and this first one seems to focus mostly on Peter and Josh. And that's fine, because there's enough going on between just a few characters to keep the whole thing moving without bogging it down in a car crash of conflicting wills.
As this book wrapped up, I had definitely enjoyed it, but there was a snag I couldn't put my finger on at first. I think what it came down to was that it seemed to be less plot-oriented and more an exploration of the numerous characters involved, and the things they did to each other as the story progressed.
Obviously the story had some important things to say and show–about love, loyalty, honesty, and bravery–and it showed them very well. It was just a lot of cause-and-effect and maybe my brain was dialed in to expecting something else. I'm glad there are more to come, because I'd like to spend more time with these characters and see how they grow.
Han has taken an authentic approach to writing modern teenage relationships, walking a line between authenticity and propriety with respectable skill. Issues like teen sex came up (especially in the third act of the book, as it were) but not in a cavalier or flippant way. Likewise there was a bit of PG-13 language throughout, including a brace of F-bombs, both times used to express anger and disgust. As I said–authentic, yet she managed not to overdo it.
At the end of the book, Han's talent was clearly on display, and I will definitely read another one of her books. I look forward to seeing where she goes from here.
Over and out.