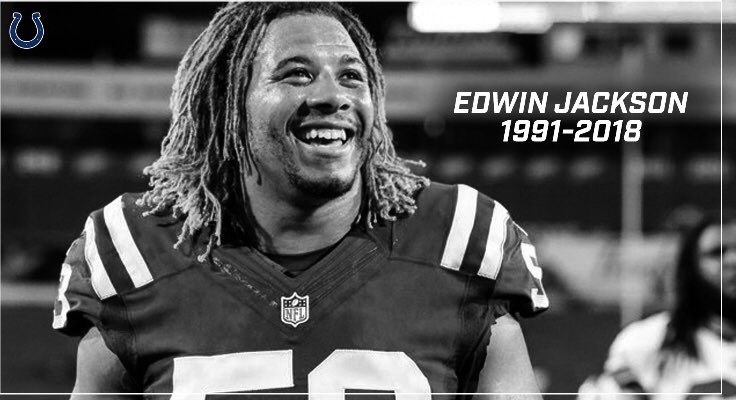 Aside from Nick Foles winning Super Bowl MVP honors over the New England Evil Empire, there was news in the NFL yesterday, of a more tragic sort. Indianapolis Colts linebacker Edwin Jackson was killed by a drunk driver on the I-70.
It's been heartwarming to see the condolences pour out of Indy and the League at large. Anyone who knew this man had great things to say about him. He was humble and cared about his community. People were his people. He took care of his family, and his mom especially played a huge role in getting him into the NFL.
His nickname was Pound Cake. For a guy in his position, you might think it's because he hits hard, and while that was certainly true, the real story is more moving than that. He had a meeting with the Arizona Cardinals after going undrafted in 2016. Unfortunately he missed his plane from Georgia, so the staff was waiting for him in Glendale, staying late on their own time, only to find out he wasn't coming.
So he called his brother, who told him to call his mom. His agent rescheduled the flight, and his mom made a ton of home-baked southern pound cakes, fresh and boxed warm, for Edwin to take to Arizona. When the coaches hinted that they wanted compensation for their wasted time, Edwin gave them the cakes, and all was forgiven. From then on, he was the pound cake guy. (Full story here, at IndyStar.)
He didn't land a roster spot in Arizona, but the Colts picked him up in the offseason, and he ended up being a bright spot on an otherwise anemic and uninspiring defense. He was set to be a player for a while in Indy, until he was tragically taken by a motorist who was in the US illegally, driving without a license (illegally), and drunk (illegally.)
A scofflaw ignored three rules that should have protected people on the road, the biggest of these being that he was intoxicated, and in an instant, he robbed a mother of her son, a family of their brother, a team of their friend, and a legion of fans of an admirable player. The loss to his family is severe, and the loss to the community is tragic. Nobody deserves this, and yes, it's even harder to bear when the person lost was kind, humble, and charitable.
I keep thinking back to Zurlon Tipton, another former Colt who passed away in 2016 (though under drastically different circumstances.) Both Zurlon and Edwin were 26 at the time of their deaths. Far, far too young to be gone. I got married at 26. The biggest moments of my life hadn't even happened to me yet.
My condolences, my thoughts, and my prayers go out to the Jackson family. I know that that doesn't alleviate anything. It doesn't give them their son back. The best I can do is offer that, and remember the good example that Edwin Jackson set.
As a final note, Edwin Jackson's preferred charity was Hope For Justice, an organization that fights human trafficking and modern-day slavery. A couple of fellow Colts fans at r/Colts have made donations in Edwin's name, to the tune of $53 (his jersey number.) I'll be joining them when I get paid on Friday.
Drive safe, drive sober, you guys. It's never worth it.
Rest well, Pound Cake. Colts Nation misses you already.